The atmosphere was wonderful and everybody enjoyed themselves. The day started at 9.00a.m when the collectors started their bucket collections at all the shops and shopping centres in Carrick-on-Suir and Clonmel. Collectors also collected in all the villages in which the ponies and traps passed through. The Pony and Trap drivers were busy preparing their ponies and traps for the long drive.
The Pony and Trap Drive gathered at the Fox's Den, Kilmacow. The team included, Billy Meany with his pony – Bugsy, John Kearns with his pony – BoBo, Tommy Foskin with his pony – Monkey, Tony Flynn with his pony – Black and guest driver, John Fogarty with his pony – Misty. They left Kilmacow at 11.45a.m and arrived in Clonmel at approx 4.30p.m. There was a break of one hour at The Blarney Woollen Mills, Ballydine, Carrick-on-Suir to give the ponies a rest.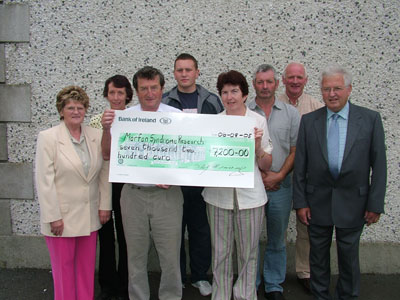 Mary Corcoran, Ballinerla, Kilmacow dressed up as an old woman and accompanied Billy Meany in his trap to Clonmel. The day finished with a most enjoyable cabaret at The Fox's Den. DVD's and Videos which capture the fun and atmosphere of the day are available at €15 each. To order a copy please phone Geraldine at 087 7747710.
Sincere thanks to all Marfan Syndrome Research supporters who helped in any way including collectors, sponsors and contributors.