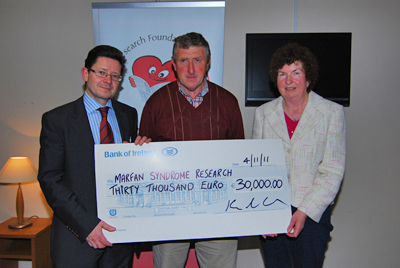 Marfan Syndrome and Cardiac Surgery Information Evening at Kilmacow Community Centre was most interesting and informative. Kieran Mc Grath welcomed Prof Mark Redmond, Dr Darren Mc Laughlin and Dr John Byrne. Kieran spoke about how the Mc Grath family first encountered Prof Redmond. Geraldine Mc Grath's first open heart surgery was unsuccessful and as the late Mr Maurice Nelligan was retiring, he handed her medical notes over to Prof Redmond. Mr Nelligan strongly endorsed Prof Redmond. Prof Redmond performed successful surgery on Geraldine and subsequently three of Geraldine and Michael's sons. Prof Redmond gave an update on Marfan research in Ireland and how the funds raised are spent. He graciously acknowledged the generosity of people in the south Kilkenny and Waterford area. Prof Redmond spoke in some detail about marfan surgery. He then went onto speak about Bicuspid Valve Disease which is a serious medical condition which he encounters more and more. This requires open heart surgery too.
Dr Darren McLauglin spoke about the current marfan research on mice in Ireland. He spoke about the importance of beta-blockers in controlling blood pressure in marfan patients. Dr John Byrne spoke about his part in marfan research and outlined how they presented a marfan research paper at the Marfan Conference in America which was subsequently published. This is a huge achievement for such a small country as Ireland.
There was a lively question and answer session which was most interesting. This was a unique opportunity with three specialists present, to impart valuable advice. Kieran Mc Grath acknowledged the generous support Marfan Research receives from the local community. He stated the main annual fundraisers were The Pony and Trap Drive organised by Billy Meaney and Mary Corcoran and The Christmas Bag Pack at Super Value, Morgan St, Waterford. Kieran also welcomed Dr John Enright, Mullinavat and Suzanne Redmond. He stated the total amount raised for marfan research to date was €213,350 Prof Redmond was presented with a cheque for €30,000 on the night. It was a successful and enjoyable evening and ended with a cuppa and a chat.